News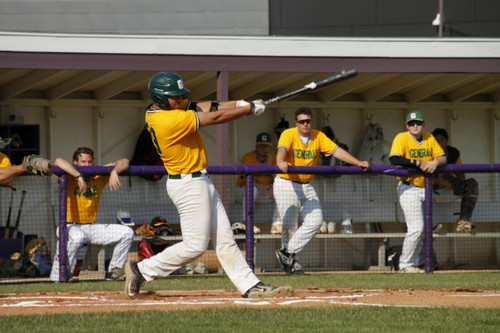 08/02/2019 11:29 PM
-
-By Sam Oppenheim
Chicago, Ill. - August 2, 2019 - For the fourth straight game, the Joliet Generals scored in the first inning. And for the third straight day, the Generals lost. Joliet's 15-4 loss to the Southland Vikings tonight, in addition to the DuPage County Hounds 7-6 win over the Northwest Indiana Oilmen, has eliminated them from making the postseason.
It was a promising start for the Generals once again. Jack Ferraro (Triton College / Willow Springs, Ill.) singled with one out. Then, Devin Buckner (USC Upstate / Lexington, Ky.) doubled to the fence on the first pitch he saw. A sacrifice fly by Bryant Diel (Triton College / South Elgin, Ill.) brought in Ferraro. After a Vikings error, Connor Olson (Elgin CC / Wheaton, Ill.) hit a hard shot to the right side to score Buckner.
Ty Quick (Robert Morris - Illinois / Lombard, Ill.) made his first appearance for Joliet this summer, but struggled despite the two-run cushion. All nine Southland batters came to the plate in the inning, as the Vikings had a 4-2 lead after the first.
That advantage expanded by two in the second, as Quick gave up a pair of runs. He exited after three innings, giving up five earned runs on six hits, with four walks and two strikeouts.
In the top of the third, Buckner led off with a base hit. Rocco Pascente (College of DuPage / Plainfield, Ill.) singled to put two Generals on with one out. Olson came through once again, and doubled to bring a run home. However, Pascente was thrown out at home trying to make it a two run game for Joliet.
Unfortunately, the three-run deficit was as close as the Generals came. Southland scored four in the fourth off of Joliet right hander Kyle Norstrom (Joliet JC / Mokena, Ill.). All those runs were earned for Norstrom, who did not allow any hits, but walked six batters and hit another.
Eventually, the Vikings lead ballooned to 11 and the game was called after the top of the seventh due to the slaughter rule.
A season filled with issues on the mound can be most exemplified by how the Vikings scored their runs tonight. The Generals had the same number of hits as Southland, nine, yet scored 11 fewer runs. Joliet gave 12 free passes and threw six wild pitches.
The Generals look to regroup for the final weekend of the season. Joliet plays on Saturday against the Bloomington Bobcats and Sunday versus the Vikings again. Tomorrow's contest with the Bobcats begins at 1 p.m. from Wayne King Field and the game will be streamed on the Joliet Generals Broadcast Network.