News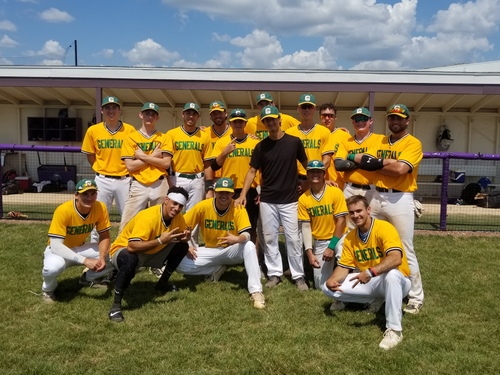 08/04/2019 3:22 PM
-
-By Sam Oppenheim
Joliet, Ill. - August 4, 2019 - When asked what his team's strengths were, Joliet Generals manager Matt Vitulli put it quite simply.
"Hitting and personality," Vitulli said.
Today was no different, as the Generals lost 5-3 to the Southland Vikings, despite outhitting the Vikings 9-7.
Catcher-turned-pitcher Rocco Pascente (College of DuPage / Plainfield, Ill.) started on the mound for Joliet. The first batter he faced was Southland infielder Kellen Quigley. Quigley launched the ball over the right field fence. It was the second time Quigley homered this season. Both came against the Generals and at Wayne King Field.
However, Pascente settled down from there. He worked consecutive one-two-three innings to keep Joliet in the game.
In the bottom of the third, Ben Jung (UW-Oshkosh / Downers Grove, Ill.) led off with a double. Three pitches later, Ty Castillo (Robert Morris - Illinois / Defiance, Ohio) singled to tie the game at one.
The Vikings had the answer in the next half inning, as a leadoff single by Justin Rios turned into a run after a balk and an error. Southland added another run in the sixth to make it 3-1.
Pascente exited the game after six strong innings. He allowed just two earned runs on six hits. His counterpart Logan Anderson managed to throw six innings as well, giving up one earned run in the victory.
The Generals scored only one more time, but it was too little, too late. Down 5-1 in the seventh, Zack Ogalla (Joliet JC / Frankfort, Ill.) had an opposite field hit to start the inning. Jung followed that up with a single. He finished the game 4-4 with two doubles and two singles. With one out, Chris Broccolino (Robert Morris - Illinois / Schaumburg, Ill.) notched a base hit to score one run and move Jung over to third. The hit parade continued, as Bryant Diel (Triton College / South Elgin, Ill.) singled to score Jung. However, back-to-back outs stranded two runners and ended the game.
Joliet finished the season with a 13-20 record, having lost their final five games. But for Vitulli, this season was about more than the wins and losses.
"This was a fantastic group of guys," Vitulli said. "I'm just grateful that I learned a lot from this group in my first year."