News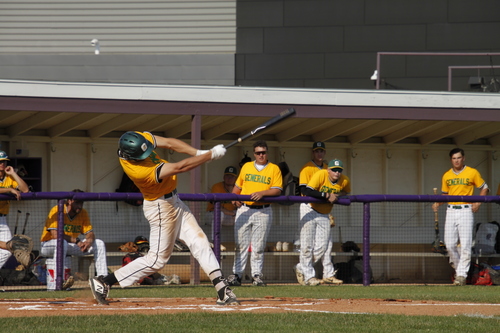 08/12/2019 9:04 AM
-
Joliet, Ill. - August 12, 2019 - This morning, the Midwest Collegiate League announced the MCL awards and All-MCL Team, following the Bloomington Bobcats winning the league championship on Saturday. The Joliet Generals are represented on the team by first baseman Will Krushena (Denison University / Bloomfield Hills, Mich.).
Krushena batted .351 for the Generals and lead the team in hits with 33. He had three HR's and 28 RBIs, both of which led Joliet. League-wide, Krushena finished tied for fourth in RBIs, an impressive feat considering he played only 25 games. He also had an OPS of .992. Krushena's most memorable performance came on July 5 against the Bobcats, where he set a franchise record with six RBIs in a game. He finished a triple short of the cycle in the contest.
Krushena is the only General to make the MCL All-League Team this summer. Joliet had two players on the squad last season. Just like 2018, the Generals finished 5th in 2019.
In the fall, Krushena will return for his senior campaign at Denison University after a monstrous 2018 season. Last year, he hit .374 and slugging .584 for the Big Red.
Here's who received league award honors, along with the rest of the All-MCL Team.
Most Valuable Player - Nick Santoro, DuPage County Hounds
Pitcher of the Year - Justin Rios, Southland Vikings
Manager of the Year - Jake Wegner, Bloomington Bobcats
All-MCL Team
C - Jake Schroeder, Southland
1B - Will Krushena, Joliet
2B - Austin Biehl, Bloomington
SS - Nick Santoro, DuPage County
3B - Jackson Dvorak, NWI
OF - Peyton Dillingham, Bloomington
OF - Reggie Brock, Jr., Crestwood
OF - Ray Hilbrich, Crestwood
OF - Scott Jones, DuPage County
P - CJ Lewis, Bloomington
P - Eddie Wilkins, Bloomington
P - Ethan Soderna, Bloomington
P/OF - Justin Rios, Southland
P - Mike Tobin, Southland