News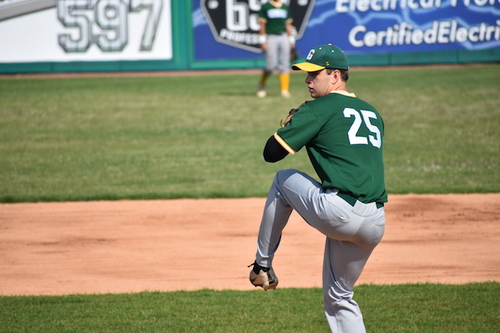 06/30/2020 12:55 PM
-
Joliet, Ill. – June 30, 2020 – The Generals' 2020 21-game home slate begins with a four-game stand where Joliet welcomes every MCL team except the NWI Oilmen. The Crestwood Panthers visit the Generals eight times in 2020, the most of any MCL team. The Generals close out the 2020 regular season and home slate with a matchup with the MCL Minutemen on Aug. 19.
The Generals will call Howie Minas Field in Midlothian, Ill. home for all but four games on the 2020 home slate. The field, located at Homan Avenue and 144 Street in Midlothian, Ill., holds significant historical value. Howie Minas Field opened in 1955 when Howie Minas constructed a baseball stadium for the Midlothian White Sox of the National Baseball Congress. Midlothian named the field after him in 1982. The remaining four home games will take place at Central Park in Dyer, Ind.
Currently, 33 games of the 47-game campaign have been announced. Head to http://www.jolietgenerals.com/schedule/ for the official, up-to-date schedule. The remaining 14 away games will be announced soon, including where the Generals will kick off the season on July 4.
Manager Matt Vitulli looks to lead the Generals to the team's first MCL playoff appearance in 2020.
2020 Joliet Generals Home Schedule
Date Home Visitors Time Location
Tuesday, July 7, 2020 Generals Panthers 3:00 PM Howie Minas
Wednesday, July 8, 2020 Generals Hounds 3:00 PM Howie Minas
Thursday, July 9, 2020 Generals Minutemen 3:00 PM Howie Minas
Friday, July 10, 2020 Generals Vikings 5:00 PM Howie Minas
Monday, July 13, 2020 Generals Panthers 1:00 PM Howie Minas
Tuesday, July 14, 2020 Generals Minutemen 3:00 PM Howie Minas
Thursday, July 16, 2020 Generals Panthers 1:00 PM Howie Minas
Friday, July 17, 2020 Generals Hounds 2:30 PM Dyer Northeast Off Calumet
Saturday, July 18, 2020 Generals Panthers 1:00 PM Dyer Northeast Off Calumet
Saturday, July 25, 2020 Generals Panthers 1:00 PM Dyer Northeast Off Calumet
Sunday, July 26, 2020 Generals Minutemen 1:00 PM Dyer Northeast Off Calumet
Tuesday, July 28, 2020 Generals Oilmen 1:00 PM Howie Minas
Wednesday, July 29, 2020 Generals Panthers 3:00 PM Howie Minas
Saturday, August 1, 2020 Generals Hounds 1:00 PM Howie Minas
Monday, August 3, 2020 Generals Panthers 3:00 PM Howie Minas
Wednesday, August 5, 2020 Generals Oilmen 3:00 PM Howie Minas
Friday, August 7, 2020 Generals Vikings 3:00 PM Howie Minas
Saturday, August 8, 2020 Generals Hounds 3:00 PM Howie Minas
Tuesday, August 11, 2020 Generals Oilmen 3:00 PM Howie Minas
Monday, August 17, 2020 Generals Panthers 3:00 PM Howie Minas
Wednesday, August 19, 2020 Generals Minutemen 3:00 PM Howie Minas