News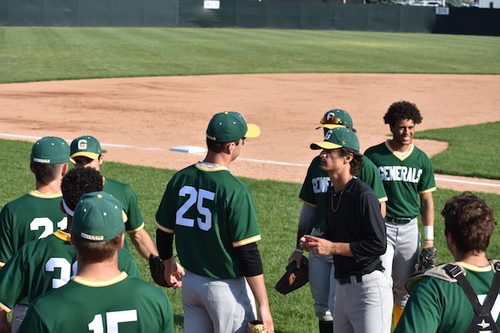 07/03/2020 11:21 AM
-
The Joliet Generals kick off the 2020 MCL season on Saturday as the team travels to Lansing, Ill. to take on the DuPage County Hounds at Lansing Old Timers Field. The matchup kicks off a three-game road trip and a stretch of 47 games in 47 days to complete the 2020 MCL season.
Returning Generals manager Matt Vitulli hasn't had much time with his squad thus far, but is eager to campaign through the congested schedule with his team.
"It's going to be tough," Vitulli said. "It's obviously something I've never had to do before and I'm sure these kids have never had to deal with before. We're looking to take it in stride and have a little bit of fun with it."
Vitulli believes a strong, healthy pitching staff is the key to surviving a unique season as the Generals face in 2020. The Generals' skipper has five experienced pitchers in mind to lead the staff this summer.
"It's all about saving arms," Vitulli said. "We're not going to be sending guys out there, especially early on, throwing 50-60 pitches a game. We are going to be staffing it a lot here in the beginning. The guys I'm going to rely on are the older guys on the staff. Seth Quick (Triton College/Lombard, Ill.), Jordan Baker (South Suburban CC/South Holland, Ill.), Jake Ostrowski (Northwestern Ohio/Lockport, Ill.), I'm definitely going to be relying on those three. We have a few newcomers too that I am going to be relying on; Jack Bell (Western Illinois/Minooka, Ill.) and Andrew Hancock (Central Missouri/New Lenox, Ill.). We're going to be relying on the older guys to get us through in the beginning."
Quick, Baker and Ostrowski combined for 84 innings on the mound for the Generals in 2020, earning six victories in nine decisions when appearing as the starting pitcher.
Managing fatigue will be a major factor to success in 2020, according to Vitulli. A limited practice schedule shifts the early season focus to getting in shape.
"Right now, it's going to be all about who is going to be fresh and who's legs are going to be fresh later on," Vitulli said. "With kids not being able to work out daily or even have a full spring season, it's going to be really tough. I think it's going to be tough for these players to really get into a groove. The guys that are getting into the groove are going to be the ones that will be successful, so right now, we are focused on what we can do to make us get into those grooves sooner."
While Vitulli can slightly forecast what his lineup will look like, the manager looks to get much of his large roster involved early on.
"You always go in having an idea, having a picture," he said. Right now, I have a picture in my head of who the nine are going to be, but with so many kids, especially position players, it's going to be a revolving door here at the beginning."
Following the three-game road trip that concludes with back-to-back games at Oil City Stadium against the Oilmen, the Generals head home to Howie Minas Field in Midlothian, Ill. on Tuesday for a four-game homestand.
"Most of these guys are looking forward to (the season)," Vitulli said. "Bryant Diel is loving it. Daniel Gutierrez is excited. It's good to have kids excited. We keep saying 47 games in 47 days, that's a lot of baseball. (I'm excited) to be outside with these guys and be on the field finally. It's been way too long."