News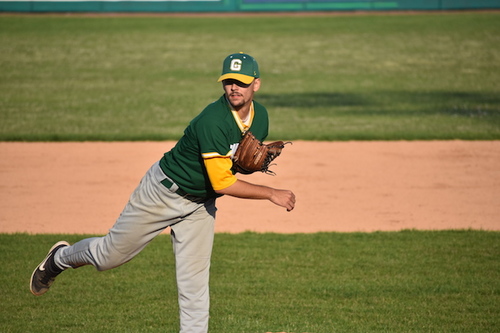 07/04/2020 6:28 PM
-
Lansing, Ill. – July 4, 2020 – The Joliet Generals fell to the DuPage County Hounds 8-5 on Opening Day of the 2020 MCL season at Lansing Old Timers Field in Lansing, Illinois on Saturday afternoon.
Generals centerfielder Amir Wright (Saint Leo/Griffith, Ind.) and shortstop Daniel Gutierrez (Chicago State/Chicago Heights, Ill.) combined for nine of the Generals 12 hits on the afternoon. Wright led the way with five hits, including a two-run double in the fourth inning to put the Generals within one run.
"I really haven't played in three or four months, so my goal coming into today was just being on time (at the plate)," Wright said. "If I got something to hit early, I was going to be ready to go."
First baseman Jack Ferraro (Triton College/La Grange, Ill.) had the other RBI for the Generals coming in the seventh inning when his sacrifice fly brought in left fielder Ben Jung (Wisconsin Oshkosh/Downers Grove, Ill.).
Starter Nick Hamilton (Carthage/Munster, Ind.), 3.0 IP, Seth Quick (Triton College/Lombard, Ill.), 2.2 IP and Jack Bell (Western Illinois/Minooka, Ill.), 2.1 IP, combined for the pitching, allowing only six hits in eight innings. Five of the eight runs given up were earned.
An important development from Saturday afternoon's loss was the combination of speed on the base paths from Wright, Jung and Gutierrez.
"Speed definitely kills," Generals manager Matt Vitulli said. "Whether it is just taking the extra base or stealing a base, speed kills. We have the ability to play small ball. They can all handle the bat well."
The Generals stole four bases, two coming from Gutierrez and another from Jung. Wright earned his fifth and final hit by beating out a ground ball to shortstop in the eighth inning.
"We can change games, we can open up innings, we can put teams away," Wright said. "This is just something to start. We definitely are going to use our speed to our advantage this season."
The Generals look to bounce back Sunday afternoon at Oil City Stadium in Whiting, Ind. as the team takes on the NWI Oilmen at 4:10 pm.