News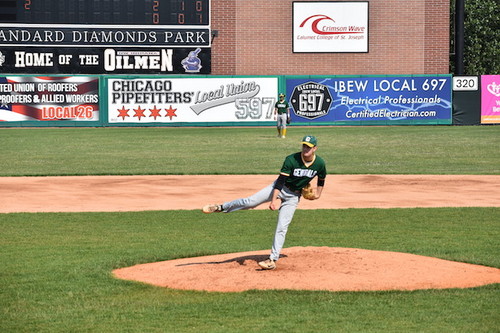 07/08/2020 8:36 PM
-
Midlothian, Ill. – July 8, 2020 – For the fifth consecutive day, the Joliet Generals showed bright spots, but couldn't put a complete game together to earn a victory. The Generals dropped Wednesday afternoon's ball game 18-9 against the visiting DuPage County Hounds.
Joliet (0-5) showed fight early, coming back from giving up four runs in the third inning with a four spot of their own to tie the game heading into the fourth. The tie game didn't last long.
A multitude of errors in the inning combined with three hits and three walks allowed the Hounds (4-1) to put up an eight spot in the fifth.
Right-handed pitcher Jacob Overbeck (Southwestern Illinois CC/ Morris, Ill.) then took the mound and shut the DuPage County offense down. Overbeck threw five strong innings in relief of starting pitcher Danny Wizceb (Morton / Palatine, Ill.) and reliever Zack Zborowski (Joliet Junior College/ Valparaiso, Ind.). In his five innings of work, Overbeck struck out six, giving up only four hits without an earned run.
"I felt like my command was there," Overbeck said. "I was locating all of my pitches very well and getting ahead of hitters which helped me be able to put them away a little bit more than usual."
Zborowski, who made his MCL and Generals debut after coming over in a trade with the Southland Vikings, also didn't allow an earned run in an inning and a third.
After falling behind 14-4, the Generals fought back, scoring five unanswered runs to pull within five after the sixth inning. Overbeck believed his strong outing and the offensive outburst went hand-in-hand in the middle innings.
"When you get a few shut down innings it feels good for the whole team, especially when (the Generals offense) scores a couple of runs and get the leadoff man on, I think (confidence) is big for us," Overbeck said.
Shortstop Harrison Hayes (UC-Santa Barbara / Western Springs, Ill.) had a solid day at the plate, going 2-5 with a double, triple and four RBI. Second baseman A.J. Wright (Northwood University / Griffith, Ind.) reached base three times in five plate appearances and scored twice.
The Generals will look to Thursday to find out if the third time is the charm to find a win as the home team at Howie Minas Field. Joliet welcomes the MCL Minutemen (1-3), who earned their first win of the season Wednesday over the Crestwood Panthers by a score of 8-2, at 3 pm in Midlothian, Ill. The matchup can be seen and heard on the Generals Broadcasting Network as Alex Coil and Ryan Zimmerman have the call.