News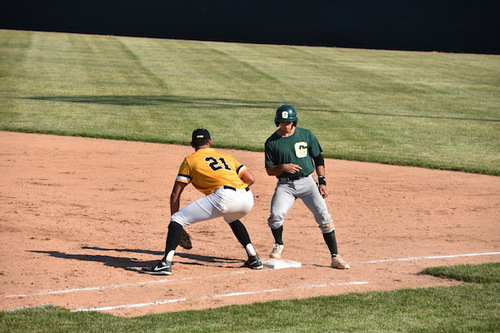 07/12/2020 9:11 PM
-
Whiting, Ind. – 7/12/20 – After kicking off the 2020 Midwest Collegiate League season with an unceremonious five-game losing streak, the Joliet Generals have beaten the two teams atop the MCL standings in consecutive games.
Sunday afternoon's game at Oil City Stadium saw the Generals (2-5) take advantage of two disastrous innings by the NWI Oilmen (5-3), scoring twice on three errors in the top of the first and four times on five walks in the top of the fifth. In the end, Joliet pulled out the 9-6 victory by adding two late insurance runs in the top of the eighth.
Left fielder Ben Jung (Wisconsin Oshkosh/Downers Grove, Ill.), who batted in the nine-hole, had a tremendous day at the plate, going 4-4 with two doubles, three RBIs and a run scored. Jung enjoyed serving the role as the second leadoff man in the Generals lineup.
"I saw a lot of fastballs," Jung said. "I was swinging (at the) first pitch in most of my at-bats because I didn't want to get beat by any sliders or any junk in the dirt. I enjoyed hitting in the nine-hole today because we turned it over to Amir Wright (Saint Leo/Griffith, Ind.). It was almost like we had two leadoff hitters back-to-back."
Jung mentioned an off day following the team's first victory of the season due to Saturday's rainout combined with a strong pregame had the Generals aggressive early.
"Batting practice went really well for a lot of guys, so I think a lot of guys were ready to attack a fastball," Jung said. "I think we were ready to go, ready to start a winning streak."
While the Generals' bats played a major role in Sunday's revenge victory over the Oilmen, Jung referenced the relief pitching as a key to victory.
"I think the reason we won today was because we had guys like Jack Bell (Western Illinois/Minooka, Ill.) and Noah Mathias (Roosevelt/LaPorte, Ind.) who battled it out on the mound and Jacob Newman (Rutgers/Glenview, Ill.) at the end," Jung said. "Obviously, some of those innings weren't the prettiest, but they battled with no outs, one out, we were able to get out of some really tough jams and I think that's what is going to lead us on from here. Our defense showed up today, only one error. We can make the plays and, if our pitchers battle like they did, we can make the play and we can get a couple hits here and there, that's the key."
Bell threw an inning and a third, striking out a pair. Mathias, who tossed two strong innings of one-run baseball while striking out three Oilmen, credited late movement on his off-speed pitches for his ability to work out of multiple jams in the late innings.
"When I was trying to extend on my changeup, it wasn't getting anything, so I took some (speed) off my changeup and it really had a good downward action today," Mathias said.
Right-handed pitcher Seth Quick (Triton College/Lombard, Ill.) earned his first victory of the season in relief of righty Matt Donahue (Roosevelt/Palos Heights). Newman closed out the first Generals' save of the year. For the Oilmen, Max Franklin (Chicago Heights, Ill.) was credited with the loss in relief of lefty Connor Oliver (Wichita State [Wabash Valley]/Oak Forest, Ill.).
The Generals are back in action tomorrow at 1 p.m. at Howie Minas Field in Midlothian, Ill. as they host the Crestwood Panthers. Alex Coil will have the call on the Generals Broadcasting Network found on the Joliet Generals Facebook page. Monday's game will be the first of five home games for the Generals this week.