News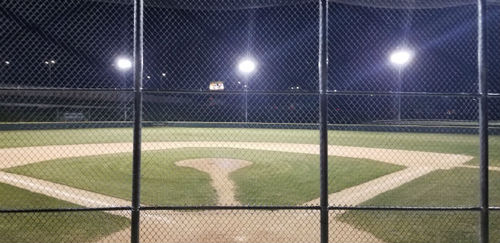 06/07/2018 10:18 PM
-
-By Sam Oppenheim
The Joliet Generals are only eight games into the 2018 season, but have already established a trademarked style of play. In tonight's 4-3 win against Crestwood, the Generals used defensive awareness, strong base running, solid pitching and situational hitting to their advantage. Tonight, all the intangibles were clicking for Joliet.
After yesterday's 6-2 win over Bloomington, Manager Joe Hernandez emphasized the importance of defense. In that win over the Bobcats, the Generals committed no errors. Today, Joliet had four errors, but made the plays they had to in the field.
"We had some guys playing out of position," said Hernandez. "Still, our guys made the plays they had to."
Outfielder Thomas Larson and catcher Josh Nowak were two of the most prominent players in the field tonight. Larson had a run-saving web gem in the 6th and gunned down Pat McGowan at the plate in the 7th. Nowak threw out three runners in the game, including a snap throw down to first that caught a runner napping. Overall, Joliet's strong performance in the field was thanks in part to the mistakes made by the Panthers.
"We just battled," said Hernandez. "It wasn't easy and wasn't pretty, but at the end of the day we came out one run ahead."
While defense was key, the Generals could not have won without situational hitting. After Crestwood pitcher Cole Blatchford retired the first two batters in the 10th, Joliet went to work. After Bryce Cross and Nowak both singled, Scott Wojcik came to the plate. With an 0-2 count and two outs, Wojcik dropped a double into right field, scoring the go-ahead run.
"The confidence of this team never wavered," said Hernandez. "We showed a lot of heart and the fact that we won was the icing on the cake."
The Generals will try to extend their winning streak to three tomorrow against the Northwest Indiana Oilmen. Game time is set for 7:10 and will be broadcasted on the Generals YouTube page.