News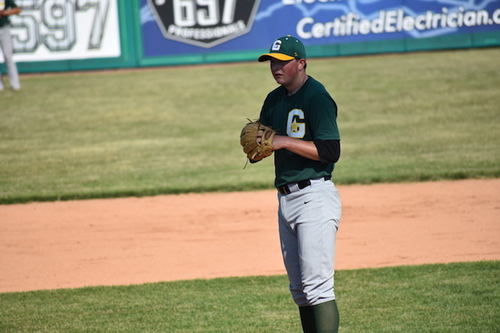 07/14/2020 9:19 PM
-
Midlothian, Ill. — July 14, 2020 — Just as it seemed the Joliet Generals would play its way to a long winning streak, the MCL Minutemen defeated the Generals 8-3 at Howie Minas Field in Midlothian, Ill on Tuesday afternoon.
After trading blows in the first four innings, the Minutemen (2-7) used a stellar relief appearance from Cade Turner (Illinois-Springfield/Frankfort, Ill.) to solidify the team's second win of the season.
The Generals (2-6) struck out a total of 15 times on Tuesday, nine of them coming from the right arm of Turner. The Generals left eight runners on base, a total helped by nine Generals going down looking at strike three.
"It's just grinding it out at the plate and shortening out swing," manager Matt Vitulli said. "We have to try to find a way to put the ball in play. We had too many long swings with two strikes. We have to cut it down with two strikes."
With only two hits, walks and strikeouts were the themes of the day at the plate for Joliet. The Generals earned seen walks and took advantage of two Minutemen errors to score the team's three runs.
"We just didn't get the timely hit that we needed to," Vitulli said. "We punched out too many times in scoring position with less than two outs. If we just find a way to put a ball in play there, I think it is a different game."
The Generals struck first in the bottom of the first inning, but that lead only lasted three pitches in the top of the second when a 3-0 fastball was hit over the left-center field wall to tie the game off the bat of Minutemen catcher Brad Miller (Illinois-Springfield/Oak Forest, Ill.). The Generals then regained the lead in the third, but could not make that last even a half inning as the Minutemen struck for two runs of their own in the top of the fourth.
"First strikes are going to be important (when pitching with the lead), dictating how the count will go," Vitulli said. "Other than that, just bearing down and executing out pitches and avoid giving them free bases."
Minutemen starter Cole Anderson (Maryville / Homewood, Ill) earned the victory as Generals starter Jacob Overbeck (Southwestern Illinois CC/ Morris, Ill.) was charged with the loss. Turner's heroic relief outing was rewarded with a save.
The Generals will travel to take on the Southland Vikings in Hammond, Ind. on Wednesday at 5 p.m., a rematch of a 14-3 Generals victory last Friday at Howie Minas Field.
"The Vikings are going to come out, especially since we handed them their first loss, with a little fire under them," Vitulli said.
Jack Theil and Alex Coil will have the call from Dowling Park in Hammond, Ind. on Wednesday. The broadcast can be found on the Southland Vikings Broadcasting Network on the Southland Vikings Facebook page.