News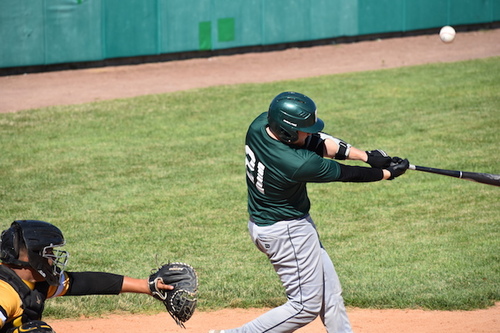 07/15/2020 6:55 PM
-
Hammond, Ind. — July 15, 2020 — Wednesday's rematch of the Joliet Generals' first win of the season against the Southland Vikings did not go as planned for Matt Vitulli and his squad.
Due to an imminent forecast of rain, the originally scheduled 5 p.m. first pitch was moved up to 4 p.m. A brisk pace and pitchers for each team throwing strikes, the Vikings (9-3) celebrated their MCL-leading ninth win in just over two hours of game time by a score of 3-0.
In a similar story to Tuesday's loss to the MCL Minutemen for the Generals (2-7) offense, Joliet stranded nine runners on base while striking out 14 times. The Generals ran into another buzz saw in relief, this time it was the presence of Jacob Kampf (Heartland CC/Lockport, Ill.), who struck out nine in four innings.
"Its the timely hit and us punching out again with less than two outs and runners in scoring position," Generals manager Matt Vitulli said, echoing a similar sentiment from Tuesday. "If we just find a way to put the ball in play there, it is a different ball game."
Joliet had a strong showing from its three pitchers that took the mound in the loss, allowing one earned run as a staff. Starter Danny Wizceb (Triton College/Vernon Hills, Ill.) threw four strong innings, giving up one earned run and three hits while striking out five Vikings.
"The pitching staff did a great job," Vitulli said. "Any time you only give up three runs, it always gives us a shot to win the game. It was our bats today."
Jordan Petty (Trinity Christian/Dyer, Ind.) and Anthony Hernandez (College of DuPage/Chicago, Ill.) each threw two scoreless innings in relief of Wizceb. In what served as Petty's Generals debut, the lefty struck out one and did not allow a hit.
With three cancelations over the past week, Vitulli mentioned struggles with rhythm at the plate and energy in the dugout.
"(Three cancelations in the last week) are a big reason (Generals hitters have struggled to find a rhythm)," Vitulli said. "You can't have that be an excuse. Today, we were rushed getting going. No batting practice or anything before the game, but we just need to be mentally tough. The other team faced the same adversity as we did. The energy definitely wasn't there today. It was not where I wanted it to be. Hopefully, we come out tomorrow ready to play."
Wiczeb was credited with Wednesday's loss, Kampf earned the win for Southland. Mike Tobin (Concordia/Palos Hills, Ill.) saved his fourth game of the season.
The Generals will have a chance to show Vitulli that energy level tomorrow as they host the Crestwood Panthers at 1 p.m. at Howie Minas Field in Midlothian, Ill. Thursday's game will be the first of a three-game homestand for the Generals and can be found on the Generals Broadcasting Network on the Joliet Generals Facebook page. Alex Coil and Jon Zaghloul will have the call.