News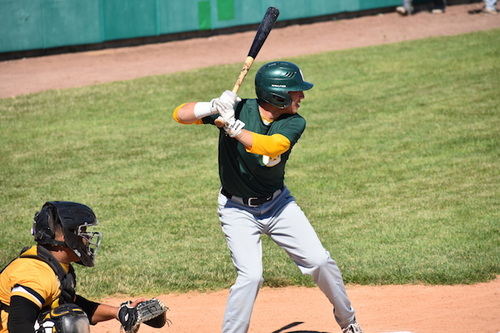 07/20/2020 10:30 PM
-
Hammond, Ind. -- July 20, 2020 -- For the second time in three meetings, the Joliet Generals offense leads the team to victory over the then first-place Southland Vikings 8-2 on Monday night.
Joliet (3-9) got ahead early and scored often, pushing across two runs in the top of the first and four more in the fourth to take the lead early. A combined effort from the pitching staff and General hitting ensured Joliet would never look back.
"In all three aspects, we played well. Noah (Mathias) (Roosevelt / LaPorte, Ind.) threw pretty well," manager Matt Vitulli said. "He kept them off balance. I think the two runs in the first inning really helped us. It is a lot different ball game when we hit with the lead than when we hit from behind."
Mathias tossed a stong five-inning, one-run start, earning the victory while striking out five Vikings. In relief, Zack Zborowski (Joliet Junior College/ Valparaiso, Ind.) and Anthony Hernandez (College of DuPage / Chicago, Ill.) combined for four one-run innings to put the seal on Joliet's third win of the season.
Zborowski commanded a consistent breaking ball to allow only one hit in his three innings of work. Hernandez followed by striking out two of the three batters he faced in the ninth.
"(Our pitching staff) did a great job," Vitulli said. "Our relievers came in and put up zeros when they needed to especially in those innings where we had just scored runs. When you can get shut down innings right after you score a few, that's huge, especially for morale. As I said, it is a lot different when we are playing with the lead rather than behind."
Thanks to a new-look lineup with shortstop Alec Gonzalez (Tennessee / Flossmoor, Ill.) in the leadoff spot, the Generals were able to combine a patient, but opportunistic, approach at the plate.
Third baseman Harrison Hayes (UC-Santa Barbara / Western Springs, Ill.) led the way with three hits, two RBIs and a run scored in four at-bats.
"Our approach (at the plate) was a lot better today," Vitulli said. "I'm only looking forward to our approach only getting better with the number of games we have coming up."
The Generals will turn around quickly and look to add to Monday's victory with a noon first pitch Tuesday against the MCL Minutemen (4-10) at Howie Minas Field in Midlothian, Ill. with the Minutemen as the home team on the scoreboard. Ryan Zimmerman and Alex Coil will have the broadcast, which will be on tape-delay. You can find the game on the MCL Minutemen Facebook page following Tuesday's game.