News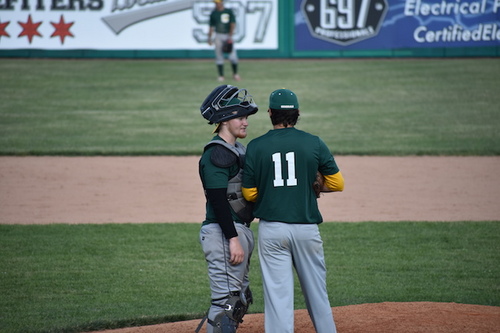 07/23/2020 9:04 PM
-
Hammond, Ind — July 23, 2020 — The Joliet Generals led the Southland Vikings into the bottom of the ninth by three runs. That lead lasted only one out thanks to a four-run bottom half of the inning.
Combining a pair of doubles and twin singles, the Vikings (11-7) brought seven hitters to the plate in the ninth to earn the win, tying the season series at 2-2.
After a scoreless first four innings, the Generals (3-12) took the lead in the fifth on an Alec Gonzalez (Tennessee / Flossmoor, Ill.) sacrifice fly. Joliet added runs in the seventh and ninth to bring their total to three.
The Generals were led at the plate by Amir Wright (Saint Leo / Griffith, Ind.), who had two hits in four at-bats, and Tommy Benson (Wabash Valley CC / Crown Point, Ind.) with two RBIs.
On the mound, Joliet received a tremendous eight-inning start from Nick Hamilton (Carthage / Munster, Ind.), who held Southland scoreless through his eight innings. Hamilton came out for the ninth but was unable to record an out, giving up two earned runs.
Seth Quick (Triton College / Lombard, Ill.) was credited with the loss in a third of an inning. Dashon Moore (Illinois-Springfield/ South Holland, Ill.) earned the win after two-thirds of an inning in relief.
The Generals hope to earn their second win of the week against the Crestwood Panthers on Friday as they travel to Lansing Old Timers Field in Lansing, Ill. for a 5 p.m. first pitch. Jon Zaghloul and Alex Coil will have the call on the Crestwood Panthers Broadcasting Network.