News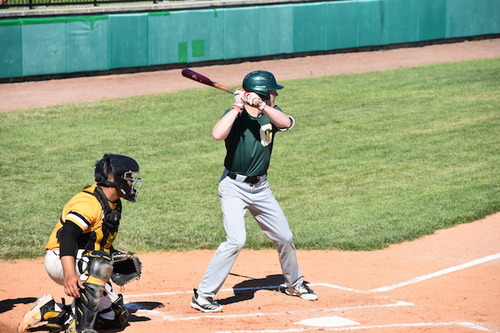 07/28/2020 6:52 PM
-
Midlothian, Ill. — July 28, 2020 — The Joliet Generals offense stayed alive in a seven-run performance on Tuesday afternoon at Howie Minas Field in Midlothian, Ill.
Unfortunately for Matt Vitulli's squad, the run production was doubled by the Northwest Indiana Oilmen and Joliet fell 14-7.
The Generals (3-16) took the lead early, scoring a run in the first inning and two more in the second to take a 3-0 lead. The lead lasted until the seventh with the Oilmen (14-7) taking a 5-3 lead. Joliet quickly tied it up at five with two in the bottom half of the inning.
Then, disaster struck in the top of the ninth. Seven hits, two walks and a slew of defensive miscues helped Northwest Indiana put up nine runs in the ninth.
"I wouldn't really say pitching with the lead has been an issue," Matt Vitulli said. "I just think, one thing goes wrong in an inning and we don't put a stop to it. We get cut open and we don't stop the bleeding. We let a fly ball drop, then the yarn ball went rolling after that. Bottom line, our defense has to man up and make a play for our pitcher."
The Generals would answer in the ninth, but the two-run home run off the bat of first baseman Jack Howard (Webber International / Plainfield, Ill.) wasn't nearly enough. Howard finished the day with two hits and three RBIs, bringing his season hit total to three. All of Howard's hits have come in his last two appearances.
"It has been a struggle so far but I've been working with coach Eddie (Blonski) and (Matt) Vitulli a lot," Howard said. "I am starting to come around. I feel like I have been putting good at-bats together. To start getting good results now makes it feel a little better."
Joliet's offense has been rolling of late, averaging six runs over its last four games.
"We take the pregame stuff seriously," the first baseman said. "We show up, hit and get better. That is what we're all here for this summer of course. Getting wins is the main goal, but, given the individual stuff, we're seeing a lot of improvement from everybody."
Tuesday represents the seventh loss in a row for the Generals. Newcomer Connor Krantz (Kankakee Community College / Chesterton, Ind.) took the loss while Oilmen reliever John Maynard (Lincoln Trail / Griffith, Ind.) earned the win.
"We'll figure it out," Howard said. "We are starting to play good baseball and that's what matters right now."
Joliet looks to do just that as they welcome the Crestwood Panthers to Howie Minas Field in Midlothian, Ill. for a 3 p.m. start. Alex Coil will have the call on the Joliet Generals Broadcasting Network on the Joliet Generals Facebook page.